What a time to be alive...
CastleVania III: Dracula's Curse...
THE ULTRA-BADASS ANIMATED SERIES!!!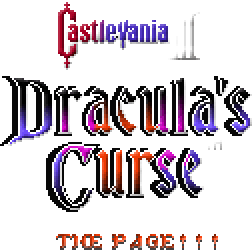 June 24, 2012: Go here to download my new rip of CVIII's SOUND MODE!
Pick your faves or get the 72MB ZIP for everything in one shot.
Also, get more CVIII love HERE!
Warakiya Village in the late 1400's...
Home of the infamous Belmont family,
and of course, the first true
Vampire Killer, Trevor C. Belmont.

Long after your fight, your descendants
shall continue to struggle against the
Embodiment and Epitome of Evil...
...Count Dracula.

Dracula's Curse Castle, known to all
as CastleVania, is seen in the distance,
and feared by the townspeople.

Do you know what you are up against?

Explore this site; you are sure to pick up
valuable information to aid you on your
first and most critical quest.

Become instructed with the Instructions,
then learn more about the Cast, and choose a
Partner Spirit... an ally with a common cause.
Study the Enemies and Ultimate Evils guide books.

Only then will you be sure of conquering the
Vampire King and continuing the Holy bloodline of the
Belmont family of warriors...

GOOD LUCK!
Skull Knight has abused the REAL Alucard about times since 1997!
OUCH.





A long time ago, there was an old dude named Dracula.
He was not nice! He never scored. Okay, he did...once.
Anyway, Dracula went around killing people. He wanted to
take over the world with his haunting hoard.

Fortunately, some dude named Trevor C. Belmont
had had enough with this crud. He took his trusty whip,
and he whipped---he whipped---things with it.
So he killed Dracula and he became famous an stuff.
They made a game about him.
The game is CASTLEVANIA III: DRACULA'S CURSE ! ! !
(Modified 1997 Opening Lines!)
CastleVania III Dracula's Curse(c), and all the other excellent video games, made by Konami.